Ongelikte, en onbeleefd personeel...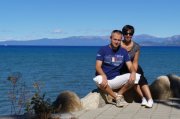 See the detailed note
De eigenaar/uitbater vond het nodig om met véél gegrom, de nodige 'goooh' en krachttermen de rekening te brengen nadat we een opmerking hadden gemaakt over de wachttijden. 19h kregen we ons voorgerecht, 5 scampi's, en om 20h kregen we uiteindelijk een overgare roggevleugel die zwom in een smaakloze botersaus, en een portie mosselen. 1h tussen beide gerechten ! Meneer vond dergelijke wachttijd normaal en nadat iedereen die na ons binnen was gekomen reeds bediend was, en zelfs betaald had. Hij vind het zelfs zo onterecht dat hij het nodige ongenoegen diende te tonen op de toch TERECHTE kritiek. Of ik dit restaurant aanbeveel ? NEE !