Would you like to book this restaurant?

This restaurant is not yet online bookable through Resto.be

Send a message, the restaurant will contact you as soon as possible
Hoogstaande kwaliteit!
Beste Italiaanse restaurant te Leuven! Zeer goede kwaliteit en vriendelijke gatvrouw.
Eten gemiddeld, de rest ondermaats.
Laten we beginnen met een positieve noot. Het eten was smaakvol en goed warm. Toch werd dit volledig overschaduwd door alle andere zaken die misliepen in dit restaurant. We reserveerden voor een groep van 14 personen via mail voor een zaterdagavond. De verantwoordelijke antwoordde dat dit enkel lukt indien we het menuutje namen van €25 per persoon. Het voorgerecht staat dan vast (2 bruschetta), drie mogelijke hoofdgerechten op voorhand door te geven (lasagne, orrechiette of ravioli) en koffie of thee. Wij gingen akkoord, mede omdat er vanuit gegaan wordt dat een menu altijd iets goodkoper is dan à la carte (dit is een algemene ongeschreven wet in de horeca, dat weet iedereen) en de prijzen niet raadpleegbaar zijn via de website. Aangekomen in het restaurant hebben we jammer genoeg moeten melden dat er twee personen niet konden bij zijn wegens ziekte. Dit wisten wij eveneens niet lang op voorhand. We waren dus aanwezig met 12 i.p.v. 14 personen, nog steeds een grote groep die een avond komt 'verteren'. Het gezicht van de gastvrouw sprak boekdelen en een hele resem boze blikken kwamen onze richting. De bruschetta's zaten al in de oven en dit kon niet meer geannuleerd worden, volgens de dame in kwestie. Hier hebben wij niet moeilijk over gedaan. Aangezien we niet meer plaats wilden innemen dan nodig hebben we ons zelfs verplaatst, zodat er nog een tafeltje (van de 2 personen die er niet waren) kon vrijgemaakt worden voor andere gasten. Op deze manier moesten we dan de hoofdgerechten van deze personen (2x lasagne) niet betalen. Ik vind dit al straf dat dit eigenlijk wel hun bedoeling was, aangezien ik dit nog nergens had meegemaakt. Uiteindelijk moesten we tot onze spijt constateren dat wat we verteerd hadden goedkoper uitkomt à la carte, dan de prijs die ons aangerekend was van €25 per persoon. Waar bestaat dit? Commercieel gezien is dit belachelijk. Toen we dit, beleefd, bespraken met de gastvrouw, vertelde zij ons dat dit niet kon zijn, dat het onnozel was, dat we mo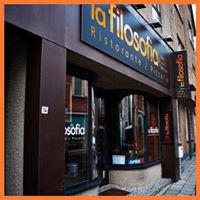 Op deze datum kwamen deze gasten binnen met een reservatie met vastgelegde menu. Dit menu werd enkele weken op voorhand afgesproken met deze gasten. Er zaten duurdere gerechten in en minder duurdere gerechten. Zodat we samen tot een compromis zijn gekomen ongeacht wat er genomen word de prijs voor voor-hoofdgerecht en koffie aan 25 euro. Op de dag van de reservatie kwamen de gasten binnen en beginnnen we de bruschetta's in te steken om mooi te kunnen dresseren en laten we onze ober de dranken opnemen. Wanneer de ober aan de bar komt merken we nog steeds op dat er 2 personen te weinig zijn. Dus wij gaan persoonlijk vragen aan tafel vanwege de bruschetta's en gerechten. Het antwoord was dat ze niet kwamen dat ze ziek waren. Wij vroegen ons af waarom dit niet even kon gemeld worden vanwege als we een tafeltje van 2p vrij hadden gemaakt was het verschil met de 2 niet opdagende gasten op zijn minst wat gecompenseerd. Uiteindelijk beginnen de gasten door te schuiven om een tafeltje vrij te geven. Wijzelf moeten uitzoeken welke gast welk gerecht heeft wegens niemand iets zegt. Na het eten de commentaar van gerecht die goedkoper waren en duurder. Als iedereen een ravioli van kreeft had genomen moesten wij dan aan de tafel gaan klagen dat we er niet aan uit kunnen? Je maakt een menu op voorhand je steekt er keuze in van allerlei gerechten en opeens commentaar over prijzen. Wel deze tafel is opgemerkt geweest door heel wat gasten die avond en toen deze door waren klapten ze met zen allen in hun handen dat we ons niet laten doen hebben. Ik vraag me af waar ze op deze manier er zo vanaf komen. En omdat ze alles uiteindelijk via mezelf de prijs van de eetkaart gekregen hebben; kwamen ze duurder uit. Omdat ze aan het gemiddelde prijs niet aan uit konden. In iedere geval beste klanten en toekomstige klanten. Aan de comments op bepaalde sites kan je eerlijke comments lezen. En fouten maken is menselijk. Laten doen...NEE!
Absoluut de moeite
Dit restaurant is een aanrader! Onze voorgerechten (carpaccio van tonijn/ossenhaas) waren zeer lekker. Het oog wil ook wat: de carpaccio's waren zeer mooi gepresenteerd! Onze hoofdgerechten (ravioli van kreeft en pasta incartociata) waren absolute top! Ik had de pasta met zeevruchten en het zal moeilijk zijn om volgende keer niet hetzelfde te kiezen omdat het zo waanzinnig lekker was! Het eten is met liefde gemaakt, vers, en met topproducten. Dat proef je! Bij La Filosofia zal je prijs/kwaliteit geen spijt hebben dat je hier bent komt eten.
All reviews of this restaurant